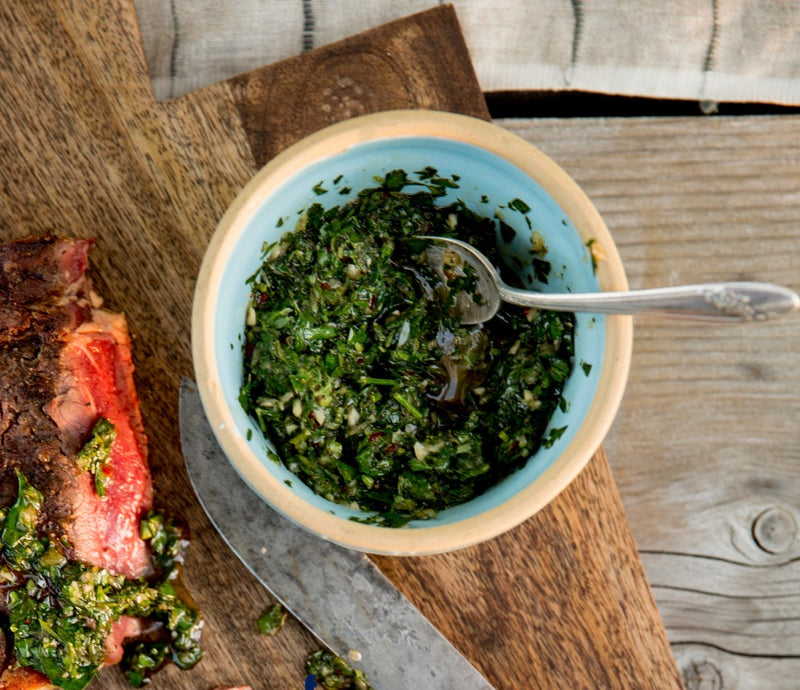 This zippy parsley sauce is found in many cultures, known as salsa verde in Italy, chimichurri in South America, sauce verte in France.
Make it with just parsley, garlic, lemon juice or vinegar, oil and salt if that's what you've got, but don't skip the capers and shallot if you have them on hand or are making a trip to the store.
You can make this recipe in a food processor, but if you prefer slightly more texture, chop everything by hand.
Yields about 1 ½ cups
1 medium bunch parsley, washed and large, fatter stems removed
1  lemon zested (with a microplane) and juiced
2 small garlic cloves, finely minced
1 tablespoon minced shallot or onion (optional)
2 tablespoons capers, rinsed and chopped up a bit (optional)
½ cup olive oil
2 tablespoons fresh lemon juice, to taste
Salt and black pepper, to taste
Finely chop the herbs and zest the lemon (if using) on a microplane and mix well or combine all the ingredients except the oil in the food processor and pulse until fairly uniformly and finely chopped. You don't want to end up with a puree so don't overdo it. Drizzle in the olive oil and pulse a couple more times. Taste and adjust with salt, lemon juice or vinegar if needed.
VARIATIONS
Add a couple of finely chopped anchovies
Vary the herbs, adding mint, dill, cilantro, oregano, basil etc.
Add a couple of finely chopped hard-boiled eggs
SUGGESTED USES
Drizzle generously over roasted veggies (very good with roasted cauliflower)

With steak

Use as a spread for sandwiches

Dress hard-cooked eggs, canned tuna and boiled potatoes

Use as a dressing for a pasta or rice salad, doctored with a dollop of mayonnaise or Greek yogurt

Dress white beans with it or stir it into a white bean puree for a delicious spread

Stir a few tablespoons into a soup when serving.