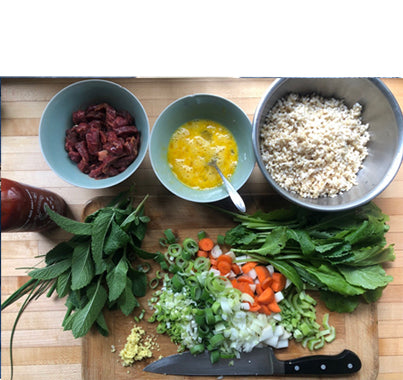 This is a blueprint for using whatever odds and ends you have in the vegetable crisper, or your CSA share. Carrots, broccoli, peas, turnips, chard stems, sweet peppers, green beans, cauliflower and almost any other vegetable that's not too wet (no tomatoes!) work well in this dish. Quantities are approximations and can be varied as you like. To avoid a soggy dish, be sure to cut the vegetables in fairly small, uniform pieces, don't overcrowd your skillet or wok, and be brave with the heat.
You can substitute two 4-ounce Lady Steaks, thawed and sliced thinly across the grain, for the strips. 
If you make twice as much rice as you need and freeze the remainder, you'll have it on hand for dishes like this. 
Makes 4 servings
One 8-ounce package Steak Strips 
2 teaspoons Sriracha or other hot sauce, plus additional for serving
3 cups cooked, cooled rice (day-old or previously cooked and frozen rice works better than fresh—fresh is too moist)
3 tablespoons oil, divided
1/2 medium onion, finely diced
2 cloves garlic, minced
2 teaspoons grated fresh gingerroot
2 teaspoons minced fresh jalapeno or serrano pepper or ¼ - ½ teaspoon red pepper flakes (optional)
1/2 cup thinly sliced carrots
1 cup broccoli, cut into 1-inch pieces or 1 cup or more shelling peas or snow or snap peas, cut into thirds
½ cup turnips, cut into 1/2-inch dice
1 bunch turnip greens, well washed and chopped (optional)
2 eggs, lightly beaten
2 teaspoons soy sauce, tamari or coconut aminos
2 teaspoons fish sauce 
¼ cup chopped basil, mint or cilantro (or a combination)
Chopped scallions for serving
Mix the beef and Sriracha in a medium bowl and set aside while you prepare the vegetables. 
Heat 2 tablespoons of the oil in a wok or the largest skillet you have, over high heat. Add the onions, garlic, ginger, carrots, broccoli, and turnips and chile, if using. Cook stirring almost constantly for 2 to 3 minutes, or until the vegetables begin to soften. 
Add the beef and any liquid in the bowl and cook for about 1-1/2 minutes, or until the pink is almost gone. Add the remaining oil, followed by the rice and greens, if using. Stir well to combine and cook about 2 more minutes until everything is heated through and the greens have wilted.
Push the contents of the pan to one side and add the eggs to the empty spot . Scramble them until almost set and gently mix in the rice, soy sauce and fish sauce, Stir together and add the herbs, mixing to incorporate. Adjust the seasoning, if needed, with salt, more soy or fish sauce, hot sauce or a squeeze of lime juice. Serve immediately.
Fried rice, beef, carrots, broccoli, peas, turnips, chard stems, sweet peppers, green beans, cauliflower,