SPICY SHREDDED BEEF SANDWICHES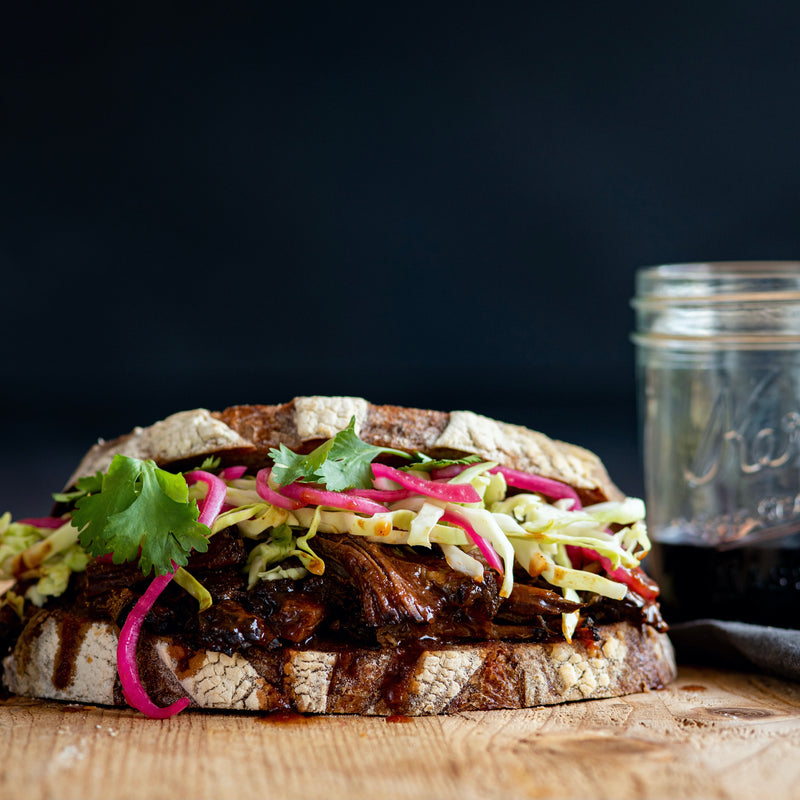 Makes 8 to 10 sandwiches
4-pound chuck roast, boneless
Salt and freshly ground black pepper
2 tablespoons canola oil
1 large onion, thinly sliced
1 head garlic, cloves thinly sliced
4 cups beef stock, homemade
1/2 cup gochujang
1/2 cup ketchup
2 tablespoons apple cider vinegar
Toasted bread, pickled onions, cabbage, cilantro sprigs for serving
Heat the oven to 325 degrees F.
Pat the roast dry with paper towels and season generously with salt and pepper.  
Heat the oil in a Dutch oven over medium-high heat until shimmering, about 2 minutes. Sear the roast until browned on all sides, about 15 minutes total.  Transfer to a plate.
Add the onions and garlic to the pan, reduce the heat to medium low, and cook, stirring frequently until they become fragrant and begin to soften, 5 to 7 minutes.  Add the stock to the pan and bring to a simmer, scraping vigorously with a wooden spoon to release any browned bits. 
Whisk in the gochujang, ketchup and vinegar until smooth. Return the roast to the pan, cover and transfer to the oven. Cook, turning the roast halfway through, until it is fork tender and pulls apart easily, 3-1/2 to 4 hours.
Transfer the meat to a baking sheet and return the liquid to the stove. Reduce by half over medium heat, skimming the fat from the top occasionally, about 30 minutes. Meanwhile, shred the meat with two forks.
To assemble the sandwiches, spoon some meat and sauce onto the toasted bread and top with pickled onions, cabbage and cilantro.