Sides
Quick Mustard Greens with Sesame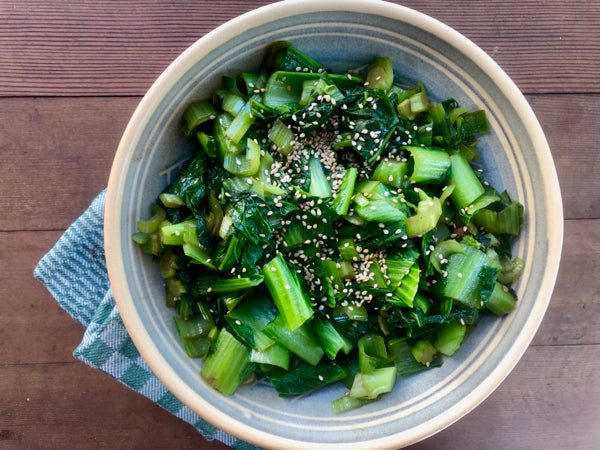 This takes just a few minutes to make and is delicious with steak or patties over rice. 
Makes 4 servings
1 tablespoon sesame seeds
1 large bunch mustard greens, washed, and chopped
2 cloves garlic, minced
2 teaspoons toasted sesame oil
1 tablespoon soy sauce, tamari or coconut aminos
2 teaspoons rice vinegar  
2 teaspoons mirin (Japanese rice cooking wine) or 1 teaspoon sweetener of choice
Cook sesame seeds in a small skillet for about 1 minute or until they're a shade darker and smell toasty. Immediately remove them from the pan and into a bowl to cool.

In a large skillet over medium-high heat, warm the sesame oil. When it is hot, add the garlic and mustard greens and saute 2 minutes. Cover the pan and cook 1 to 2 minutes, or until greens are just tender but still bright in color. Add the soy, vinegar and mirin cook 30 seconds more.
Remove the pan from the heat and serve hot, topped with the toasted sesame  seeds.