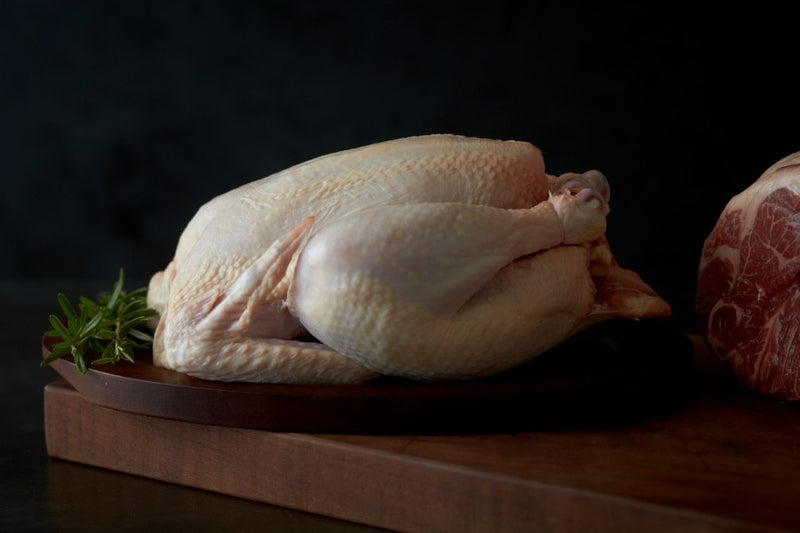 By Ellen Jackson
Here's the theory: Given three attributes for dinner — good, fast, and cheap — you can only choose two, because a trifecta is virtually impossible. "Fast" and "cheap" might mean take-out or the drive-through; good it isn't. "Good" and "fast" might mean dinner at that local, seasonal pizzeria, where the food is delicious but not exactly cheap. And "cheap" and "good" together usually negate fast, because this combo is frequently the dinner you lovingly prepare at home, taking your time and using fresh ingredients.
With a whole chicken, however, you can get good, fast, and cheap all in the same meal. Plan it right, and you can even get four meals for two people (or two to three for four!) out of just one bird.
Once you've got your three or four-pound pastured bird, rinse it and remove the legs; set aside both the legs and the neck. (The neck will go into stock; the legs will go into tikka masala.) Put the rest of the chicken in a large pot. Cover it with some chicken stock and water, then add some chopped carrots, celery, and onion. I like to add herbs (a few sprigs of parsley or thyme and a bay leaf), some peppercorns, salt, and a few crushed garlic cloves. Bring everything to a boil, then lower the heat to a bare simmer for about an hour for a soft, moist, and silky chicken poached in a delicious broth.
The reason I love to poach chicken is that you can make it into a satisfying soup all year round, using whichever seasonal vegetables are available. When the chicken is cooked through, take it out of the pot and add asparagus and peas in spring or summer, potatoes and carrots in fall and winter. If you like, simmer some noodles, dumplings, or matzo balls in the broth as well. 
Meanwhile, use a fork to shred as much meat off the bones as possible. Have a taste to see if it's seasoned to your liking. When the vegetables (and optional floating starches) are cooked, take about half of the shredded meat and add it back to the pot. Your chicken soup is ready.
As for the remaining shredded chicken, that's lunch or dinner the next day: in sandwiches, chicken salad, or enchiladas. Or add it to cold sesame noodles tossed with green apples or cucumbers, scallions, peanuts and cilantro.
While cleaning up, stick the chicken carcass in a stockpot with the reserved neck and some extra vegetables, then cover it all with water. You're going to make chicken stock by letting the mixture simmer for about two hours, until the flavors are concentrated and the volume has reduced.
Finally, if you're planning to make chicken tikka masala, prep the marinade and let the chicken legs marinate overnight.
So there you have it: chicken soup on the first night, chicken salad or other leftovers for lunch or dinner the next day, and tikka masala the next night or so. And when you're pulling that chicken stock from the freezer for the fourth meal, pat yourself on the back: you've achieved good, fast, and cheap, all on your own.