Stove Top
Korean-inspired Stir Fry with Asparagus and Bok Choi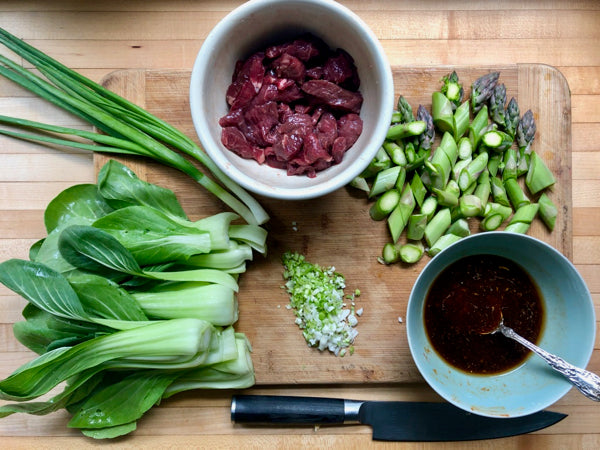 Substitute a pint of snap peas, trimmed and cut in half, for the asparagus. Mushrooms also make a nice addition to this quick, savory dish. This method works with both ground beef and strips of steak, with slightly different cooking methods.
Makes 4 servings
8-ounce package Steak Strips
1/2 teaspoon salt
3 tablespoons soy sauce
1 tablespoon toasted sesame oil
2 teaspoons grated or minced fresh gingerroot
2 teaspoons gochujang or other red chili paste
1 tablespoon oil 
3 cloves garlic or 2 stalks green garlic, minced and divided
1 bunch asparagus, tough ends snapped off and cut into bite-sized 
4-5 cups bok choi (about 3-4 small heads or 1 medium-large), well rinsed and cut crosswise into 1-inch pieces
1 tablespoon sesame seeds (optional) briefly toasted in a dry skillet until golden
2 scallions, thinly sliced
Rice, for serving
Toss the beef strips with 1/2 teaspoon salt in a small bowl and set aside while you prepare the vegetables.
Combine the soy sauce, sesame oil, garlic, ginger, water and chili paste with 2 tablespoons of water in a small bowl. Set aside.
Heat the oil in a large skillet, preferably nonstick, over high-heat. When the oil is hot, add the beef and cook about 1-1/2 minutes, turning once to cook evenly, until it's no longer pink. Remove the beef to a bowl and set aside.
If the pan looks dry and/or you're not using a non-stick pan, add another splash of oil before adding the asparagus (or snap peas) and cook 1 1/2 to 2 minutes, stirring often. Add the bok choy and cook for another 30 seconds.
Add the beef and any accumulated juices, and the reserved sauce to the pan. Mix well and cook for 1-1/2 minutes or until sauce has thickened slightly and the vegetables are tender. Garnish with the scallions and sesame seeds and serve over hot rice.
,