Sides
Indian-Spiced Sauteed Vegetables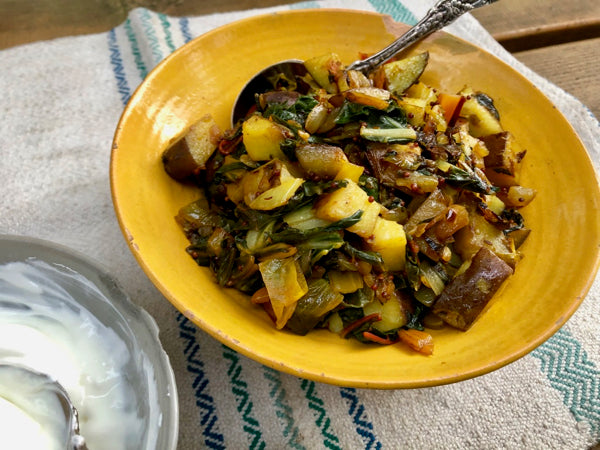 This is quick, flavorful dish will elevate most any vegetable or combination of vegetables. You could even use the stems from that bunch of chard you got in your CSA.
Serves 4 when paired with steaks, meatballs or patties 
2 tablespoons olive oil
1/2 teaspoon cumin seeds
1/2 teaspoon brown mustard seeds
1/2 onion, diced
1 bunch chard, leaves roughly chopped
3 carrots or 3 to 4 potatoes, scrubbed and diced
3/4 teaspoon ground turmeric
Salt and freshly ground pepper
Squeeze of lemon juice (optional)
Plain yogurt or Greek yogurt, preferably full-fat (optional) 
Heat the oil in a large, heavy skillet over medium high heat. Add the cumin and mustard seeds and cook for about one minute or until they begin to pop.
Add the onion, carrots, and any firm vegetable (like chard stems) you may be using along with the turmeric. Stir well to combine and add a generous pinch of salt. Cook, stirring often for 3 to 4 minutes; cover the pan to if you want things to cook more quickly. Add 1/2 cup of water to speed things up and prevent burning, and reduce the heat if things are getting too dark.
Add the chard or other tender vegetables and stir to incorporate well. Cook an additional 4 minutes or until all of the ingredients are tender. Taste and adjust seasoning with salt, and a squeeze of lemon juice if desired. Top with a dollop of yogurt, if you'd like.