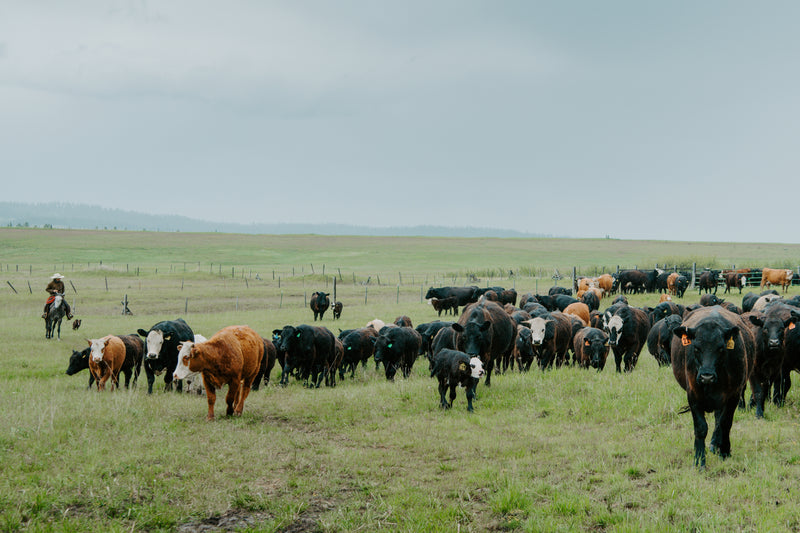 My favorite thing to do in the evening is walk through the 300 head of steers grazing a mile from my house.  They're a wily, rambunctious bunch who kept our ranch manager, Sam, on his toes this spring: Every day, they found a new way to escape through the fence to the neighbor's property.
In early spring, they moved across the prairie daily, munching native bunch grasses and forbs, annual grasses and shrubs.  When the weather warmed up, Sam moved the cattle into the forest where they grazed on a vast array of wildflowers, shrubs, native prairie grasses, and species unique to the forest, like pine grass.  When the rain stopped and the nutritional level of the grasses had declined, Sam brought the herd back to the valley, where cover crops and irrigated grasses awaited them.
As I walked among them last night, the steers stripped the leaves from sunflowers hanging over their heads. They chewed on buckwheat, triticale, orchard grass, and countless other plants.  That diversity in their diet is critical to their quality of life and health.  It's also important for ours.
Renowned behavioral ecologist Fred Provenza likes to point out that there are over 200,000 wild plants. ( We humans can eat a few thousand of those plants, yet just 12 make up 80% of our diets. In highly-processed diets, it's only 4 or 5.) Not only do plants have different vitamins and minerals, they contain compounds called phytonutrients, which are vital components of health. 
As they nibble on hundreds of different plants, the steers are selecting instinctively the precise mix of compounds they require to meet their unique nutritional needs. And in doing so, they are supporting their organs and tissues.The research from Dr. Provenza and others shows that the same compounds the animal works so hard to find are contained in their meat, making that same nutrition available to us. Supporting practices that improve plant health and diversity is just one of the many exciting and inspiring things we work on at the ranch and within our producer group.  
On a personal note, when I forget to plan dinner because I've been walking with the cows, it's lady steaks to the rescue. Knowing what the steers are eating, sometimes I skip the salad.
Cory Carman