Sides
Radish and Carrot Slaw with Toasted Pumpkin Seeds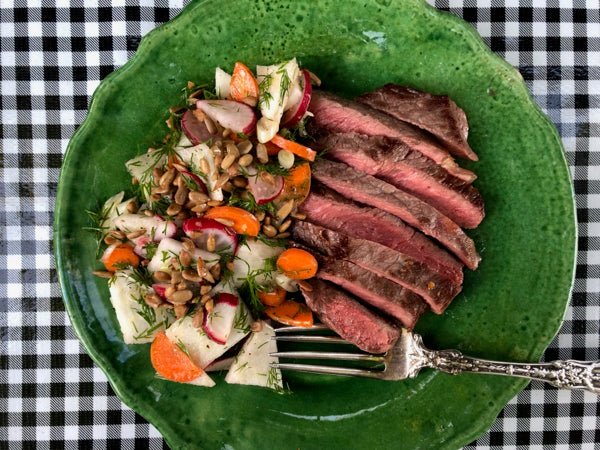 This salad is gorgeous: bright, tart and crunchy from the seeds. It's delicious eaten on its own, or on toast with hummus, avocado, cheese or egg. It will enliven almost anything, really.
1/2 cup toasted pumpkin seeds 
2 medium carrots, grated on large holes of a box grater
1 1/2 – 2 cups grated or finely chopped radish (small red ones, watermelon, or black Spanish)
1/3 cup chopped fresh cilantro or parsley or a combination
2 scallions, thinly sliced, white and green parts
1/2 serrano chile (optional), minced or a few pinches red pepper flakes
12 tablespoons olive oil
1/2 tablespoons cider vinegar
Salt and pepper
Toast the pumpkin seeds in a 350 degree F oven (or a dry skillet over medium-low heat) for 8 to 12 minutes, or until they puff a bit and turn golden brown.
Combine the carrots, radish, cilantro, scallions and chile, if using, in a bowl. Drizzle the oil and vinegar on top and toss to incorporate. Taste and adjust seasoning with more vinegar, plus salt and pepper to taste. Add the pumpkin seeds, toss again and enjoy right away for the full crunch!