Ground Beef Stir Fry with Mustard Greens and Garlicky Yogurt Sauce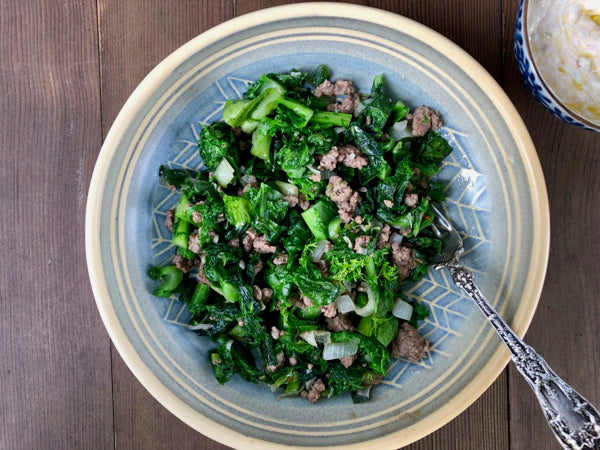 This one is simple, delicious and fast to the table, especially if you use greens that cook quickly, like mustard, chard, spinach, turnip or beet greens. Feel free to switch up the spices and/or add fresh herbs according to what you like and have on hand.
Makes 2 servings, or up to 4 with rice, flatbread or chickpeas 
1 tablespoon olive oil
1/2 onion, diced
2 cloves garlic, finely minced
8 ounces ground beef
1/4 teaspoon salt, or to taste
1/4 teaspoon chili flakes
1 bunch mustard greens (see headnote), washed, thick stems removed, and leaves somewhat finely chopped
Salt and freshly ground black pepper
For serving
Rice, flatbread or chickpeas 
Heat the oil in a large, heavy skillet over medium-high heat. Add the onion and garlic and saute, stirring frequently, for 2 to 3 minutes or until the onion begins to soften without coloring.
Add the beef, salt and chili flakes, breaking up the beef with a spoon and continuing to cook and stir until no pink remains.  
Add the greens and stir well to combine. Cook 2 to 3 minutes more, or until the greens are tender. Taste and adjust the seasoning with salt and pepper.
Serve the stir fry with Yogurt Sauce with Garlic accompanied by rice, flatbread or chickpeas, if you choose.