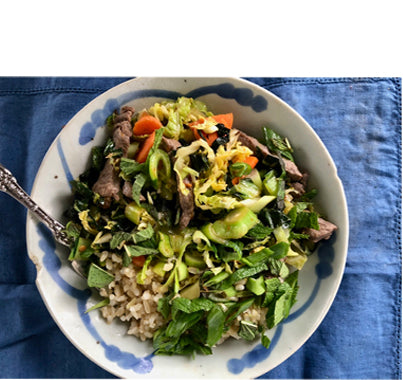 The variety and ratio of vegetables to meat are flexible in this recipe. You could even use half the meat, and double the vegetables and sauce.
Cauliflower, kohlrabi, radishes, Brussels sprouts, snap or snow peas, bok choy stems, turnips, or sweet peppers are all good choices here. Cut them in small, similarly-sized pieces to ensure even cooking. If you have them on hand, garnish with a generous amount of fresh cilantro, basil and mint, in any combination.
 
Makes 4 servings
One 8-ounce package Steak Strips
Salt and freshly ground pepper
1 lime, juiced (about 2 tablespoons)
One 1/2-inch piece fresh gingerroot, grated
1 tablespoon fish sauce
2 teaspoons soy sauce, tamari or coconut aminos
3 tablespoons oil such as avocado, sesame or coconut (see note in Pantry), divided
Fresh or dried chili; sambal oelek, sriracha, or favorite hot sauce, to taste
1 teaspoon honey or other sweetener
4 cups finely sliced red, green or savoy cabbage, or other vegetables (see head note)
1 carrot, finely chopped, or other vegetable (see head note)
1 small bunch scallions, thinly sliced including green tops (set half aside)
Optional serving suggestions:
Coarsely chopped fresh cilantro, mint, basil or a combination
Hot rice
Season the beef generously with salt and pepper and let sit at room temperature while you prepare the sauce.
Measure the lime juice, grated ginger, fish sauce, soy sauce, 1 tablespoon oil, hot sauce and honey into a small bowl. Whisk together to combine and set aside.
Heat 1 tablespoon oil in a large skillet or wok over high heat. Add the meat and any accumulated juices and cook, moving the meat around, for about 90 seconds or until almost no pink remains. Remove the meat from the pan to a bowl and set aside.
Add the last tablespoon of oil to the pan and return to high heat. Add the vegetables, reserving most of the scallion greens. Cook the vegetables, stirring often, until they begin to soften slightly, 3 to 5 minutes. Note: Cooking time will depend on the variety and quantity of vegetable(s) you're using, and the size of your skillet/wok.
When the vegetables are tender, add the meat and any accumulated juices back to the pan with the sauce. Cook over high heat for a minute or two, to heat the meat through and allow the sauce to thicken slightly. Garnish with the reserved scallion greens and herbs, if using, and serve hot over rice.