Grill
Arugula and Lady Steak Salad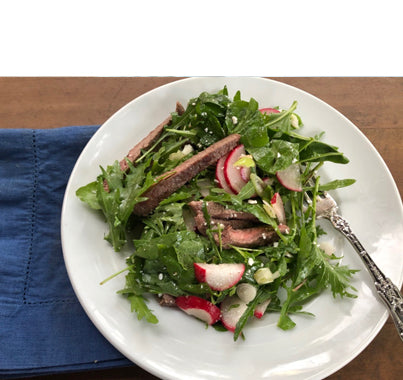 Simple, classic, delicious. Use all arugula if you can't find mizuna or another flavorful, tender green.

Makes 2 to 4 servings, if served with roasted potatoes or lentils
Two 4-ounce Lady Steaks, medium-rare
2 packed cups arugula, washed, dried and roughly chopped or torn
2 packed cups mizuna, washed, dried and roughly chopped or torn
2 scallions, thinly sliced, including green tops
5 radishes, halved and thinly sliced, or 1 medium black radish, peeled and quartered and thinly sliced
Juice of ½ lemon or 1 ½ tablespoons red wine or cider vinegar
3 tablespoons olive oil
Salt and freshly ground black pepper to taste
2 ounces feta or blue cheese, crumbled (optional)
1/3 cup toasted sunflower or pumpkin seeds (optional)
Put the greens, scallions and radishes in a serving bowl. Sprinkle with lemon juice, oil and salt and pepper. Gently toss to coat the greens before adding the cheese and seeds, if using. Adjust the seasoning.
Thinly slice the rested, cooled Lady Steaks across the grain and add to the salad, or arrange on top of greens.