Meatballs with Tomato, Ginger & Garlic Sauce, Braised Greens, and Rice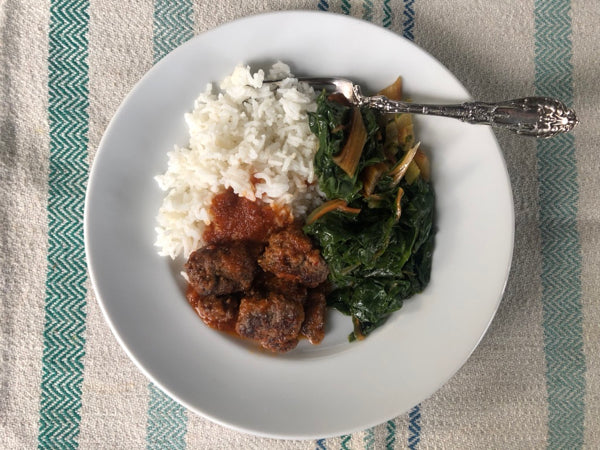 This sauce is a little bit sweet, a little bit savory and very slightly spicy from the ginger and garlic. Amp up the heat with hot peppers or hot sauce if you'd like. It's versatile enough to give most basic starches, vegetables or meats a flavor boost. This recipe leaves you with about 2/3 cup leftover, and makes a great base for beef and bean chili.
The meatballs can be made ahead of time and refrigerated for up to 2 days before cooking. 
If you don't have any on hand already, start rice as you begin to prepare the rest of the items and it will be ready when everything else is. Brown rice will take a little longer.
Serves 2 to 3
SAUCE
1 cup canned tomatoes, and some juice (mostly tomato chunks)
1-1/12tablespoons rice vinegar
2 tablespoons soy sauce, tamari or coconut aminos
2 teaspoons toasted sesame oil
3 cloves garlic, roughly chopped
2 teaspoons chopped or grated fresh gingerroot or dry ground ginger
1 to 2 teaspoons honey or other sweetener
MEATBALLS
8 ounces ground beef
1 clove garlic, minced
1 teaspoon finely grated fresh gingerroot or powdered ginger
1 teaspoon toasted sesame oil
1/2 teaspoon salt
Freshly ground black pepper to taste
GREENS
1 tablespoon oil
1 large bunch greens (chard, spinach, beet greens, mustard greens, kale, etc.) tender stems finely chopped, and leaves roughly chopped
Salt
Rice, for serving (optional) but very good to soak up the sauce
To make the sauce, put the tomatoes, vinegar, soy sauce, oil, garlic, ginger and honey in a blender and blend until smooth. Set aside; you'll use about half of it for this recipe. Store the remainder in the fridge for up to 5 days, or in the freezer for several weeks. 
In a medium bowl, gently combine the meat with the garlic, ginger, oil, salt and pepper to incorporate. Use a tablespoon or a 3/4-ounce scoop (size 40) to form 10 to 11 small meatballs. Set aside at room temperature while you prepare the greens. 
Heat the oil in a large skillet over medium-high heat. Add the chard stems, if using, and cook for 2 minutes, then add the leaves of the greens and a few pinches salt. Cover the pan and let cook for a few minutes, until the greens are wilted and tender. 
In 8 or 9" skillet that will fit the meatballs in one layer, heat a small amount of oil over high heat. Add the meatballs, cook 2 to 3 minutes and then carefully turn them over. Lower the heat and cook 1 to 2 more minutes. Add 2/3 cup of the sauce to the pan with the meatballs, bring to a simmer and cook another 30 seconds or so. Serve the meatballs and sauce with the greens, over rice.